A
hand book
of
amusement
&
hospitality
for guests at a seaside wedding
September, 2012.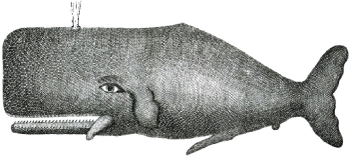 "A whale of a time."
J.M. Burwell
&
Tracy J. Barnwell,
HOUSTON.
——
MMXII
Events & Schedule.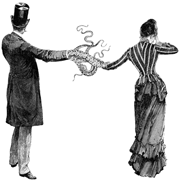 "Together, at last !"
Saturday.
Five o'Clock — Ceremony.
Seven o'Clock — Reception, dinner, and merriment.
Sunday.
Noon — "Brunch" ?
The Venue.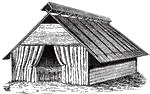 For all planned activities.
Stahlman Park
Reception and Conference Center
2211 Bluewater Highway
Surfside Beach, Texas 77541
Travel.

By Air
Two airports serve the Houston area.
Intercontinental (IAH)
Approximately 90-minute drive to Surfside.
Serves all but Southwest Airlines.
Hobby (HOU)
Also a 90-minute drive to Surfside.
Serves Southwest Airlines.
Automobile
Cars for rent are available at both airports.
The groom is known to enjoy the services of
Dynasty Limousine.
Lodging in Surfside.

"Comfort and convenience for seaside Pleasures."
Brannan Beach House Rental
Preferred by the wedding party and families.
Beach houses available for weekend rental.
Close proximity to venue.
Availability and information.
Telephone: 888-233-1812
Ocean Village Hotel
Beach-front hotel and restaurant.
Under one mile from the venue.
Not super-fancy, but right on the beach.
The food, the burgers in particular, are well-regarded.
Tripadvisor. ~ Official web site.
Telephone: 888-531-2473
Lodging further inland.

"Amenities to suit all tastes and budgets."
For your consideration.
Candlewood Suites
9 miles from Surfside.
TripAdvisor. ~ Yelp. ~ Official web site.
Telephone: 877-859-5095
Hampton Inn
9 miles from Surfside.
Well-regarded.
TripAdvisor. ~ Yelp. ~ Official web site.
Telephone: 979-265-3200
La Quinta Inn
9 miles from Surfside.
Pet-friendly.
TripAdvisor. ~ Yelp. ~ Official web site.
Telephone: 979-265-7461
Regional Amusements.
Surfside
Feel free to explore Surfside's hospitality, such as it is.
Buc-ee's ~ Valero station ~ Surfside Liquor ~ Kook's
Red Snapper Inn ~ Pirates Alley ~ Kitty's Purple Cow
Freeport
Freeport is just across its namesake port from Surfside.
Kroger ~ Friends Liquor ~ Shipley Do-Nuts
On the River ~ Mexicanismo ~ Baytown Seafood
Capt. Mark's ~ The Jetties
Clute and Lake Jackson
For more of a taste of civilization, head inland.
Museum of Natural Science ~ Historical Museum
Sea Center Texas ~
The Local ~ Shanghai ~ Café Annice ~ El Toro
Brian's Barbecue ~ Yang Tze River
Regional Amusements.
Angleton
The groom's home town, a 20-minute drive from Surfside, is the Seat of Brazoria County.
The County Museum ~ Stephen F. Austin Statue
La Casona ~ Giovanni's ~ Duran's Barbecue
Taco Loco ~ Smithhart's ~ El Patio ~ Bay Seafood

Galveston
A 90-minute drive along the scenic Blue Water Highway takes you to one of the oldest cities in Texas.
Bishop's Palace ~ Moody Gardens ~ Seaport Museum
The Strand ~ The Seawall ~ 1900 Storm Museum
Mod Coffee ~ The Original ~ Shrimp 'n Stuff
The Spot ~ DiBella's ~ The Mosquito Café
Sunflower Bakery ~ Café Michaelburger

Houston
About an hour to the north by car, Houston is known for world-class dining, fine arts, live music, and events.
Museum of Natural Science ~ Houston Zoo
Menil Collection ~ Art Car Museum ~ Theater District
Black Hole Coffee ~ El Real ~ Hickory Hollow
The Hobbit Café ~ Barnaby's ~ La Tapatia
59 Diner ~ La Mexicana ~ Niko Niko's ~ La Dolce Vita
R.S.V.P.
Gift Registries.
We have selected a range of gifts available from these merchants for your inspiration and convenience.
Target
Amazon
May we also suggest: